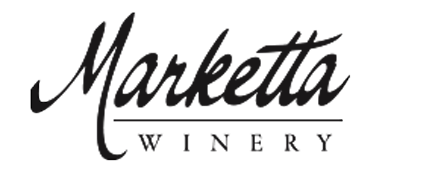 Marketta Fourmeaux
WINEMAKING THROUGH THREE WINERIES
Marketta's mantra: "There's no special trick, or any one thing that makes great wine. It is the daily work and attention to details, the sum of every choice you make—big or small—that ultimately make the wine.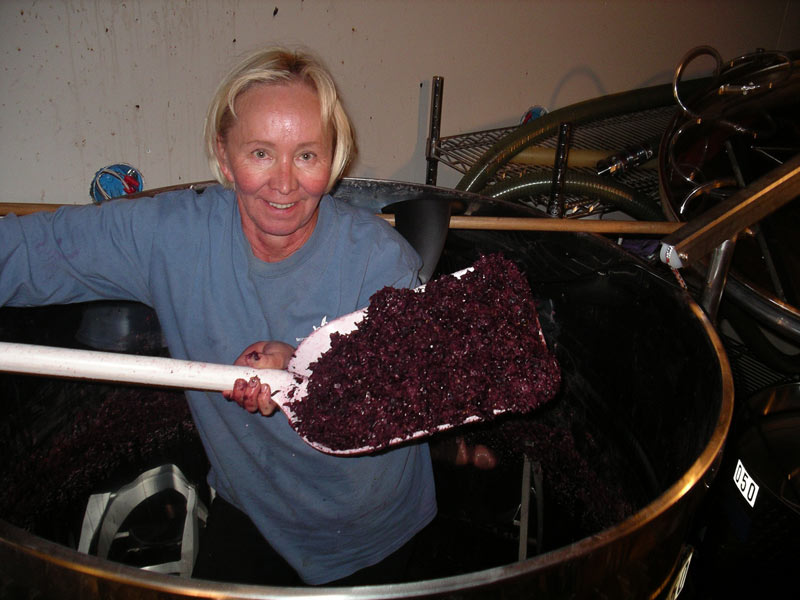 Marketta emptying red grapes from tank
The vineyard is the foundation. Different soils produce different tastes and mouth-feels.
It took her four years of search, trial and error to find the site that could produce her vision: mountain wines that showed elegance, power, and were designed to enhance food and worthy of long aging.
"I try to get the character of the soil in the bottle," she says explaining, "Do not mess up the wine. Let the natural character of the grapes shine. Give minimum handling to the wine, don't fuss. Help it only when it needs help. Sounds very simple, but it is very difficult because you cannot make mistakes."
She has always fermented with natural yeast. This allows the individual flavors from the vineyard. The alternative is to use commercial yeast – which is perfectly good – but leaves out the local identity.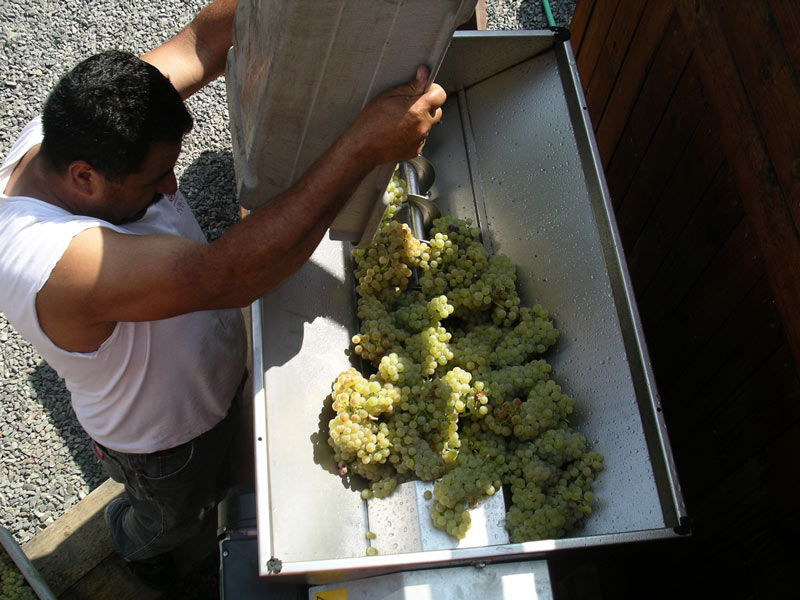 Birth of a wine style
Marketta had an "empty canvas." No previous wines from this property, nobody to turn to for advice, because her vision was different. She went back to the vineyards, spent a lot of time observing and tasting the grapes, block by block, "saw" the flavors and the structure they had, and got to work.
Visitors tasted the difference and appreciated the quality of the wines. The couple decided to name their Estate Mount Veeder wines VGS. Many would fondly call Marketta, Madame VGS.​
Marketta's individuality in wine production made her one of the top-ranking producers of Zinfandel, Cabernet Sauvignon, Syrah, Chardonnay and Sauvignon Blanc, and elevated her into one of the world's first female wine producers, and then into the ranks of the most respected winemakers in America.​
She has always constructed each wine with a minimum of technical intervention to ensure that the wines retain their natural intensity and integrity, resulting in wines of extraordinary balance and finesse.
Contact
---
info@markettawinery.com | (707) 226-5944 | (707) 480-8688
Mailing Address: 528 Coombs Street, Napa, CA 94559
By Invitation Only